The Basic section contains information new riders will find helpful and also acts as a recap for those returning to the sport after an extended break.
There are three sections covering rider safety, equipment advice and basic riding skills.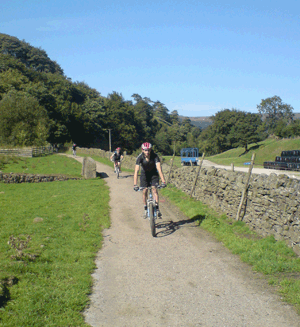 Whilst there were groups riding offroad on cycles beforehand, it is generally accepted that mountain biking started over 30 years ago in California.
Since then mountainbiking has steadily grown in popularity. Ask ten riders why they ride and you will probably get ten different answers; the scenery, excitement, challenge or to stay fit are just some of these.
This diversity is the reason mountainbiking has become so popular and also why you see so many different types of bike and rider on the trails.
Riding on peaceful scenic trails on a warm summers day is an excellent way of getting away from it all and relaxing whilst racing steep and technical downhil courses provides enough thrill for even the most ardent adrenaline junky.
After mastering the topics in the basics section you will easily be able to ride blue grade trails at one of the many trail centers to be found around the UK.
Once comfortable with the basic skills, move on to the Fundamentals section to learn techniques specific to riding offroad and improve your skillset ready for those red grade trails.