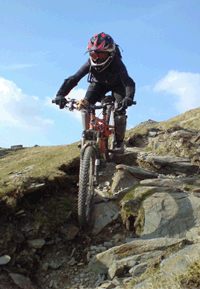 The complete MTB skills and technique resource.
If you want to improve your off road mountain bike skills you've come to the right place. Learn the basics of off-road cycling, gain the skills and confidence required to ride the tough section of trail you reluctantly walk down or shave a few seconds off your downhill race run.
MTB Techniques is an off road and trail cycling skill and technique resource for mountain bike riders of all levels.
Topics range from cycling basics for MTB virgins, trail fundamentals to help get you off the beaten track, skills to help tame technical mountain trails through to advanced techniques used when riding or racing the steepest of downhill trails.
Other mountainbike skills instruction websites are aimed at the beginner or are written from a cross country (XC) point of view. They can be great when you first start but offer less help with further mtb skills as your riding skill level increases.
MTB Techniques offers a complete set of mountain bike skills, showing riders the importance of strong riding foundations, advanced skills cannot be fully mastered without first understanding the basics.
Subjects have been arranged to allow natural progression between topics, each new mtb skill introduced builds on previous topics whilst providing the foundations for more advanced skills.  It is this structured approach that is unique to MTB Techniques.
MTB skills topics include riding mud and roots, off camber sections, drop-offs and line choice.
Don't get too obsessed with getting things perfect or attempt something you are not fully comfortable with, move on and try something new. You can always come back to it another day.
You are learning and practising these MTB skills to become a better rider but remember the reason that got you out on the trails in the first place. Take plenty of time out from practising your new skills to enjoy the trails and scenery around you.
beginner guide | fundamentals | advanced skills | downhill techniques | trials